Welcome to The Salisbury AFVBC
The Monthly Routine
1st Sunday of the month – Lunch at the Evergreen Café
2nd Sunday of the month – Breakfast at The White Hart
3rd Thursday of the month - Quiz night at the Evergreen Café
3rd Saturday of the month - Field Kitchen on the Charter Market
3rd Sunday of the month – Sunday Lunch at The White Hart
4th Sunday of the month – Breakfast at The Field Kitchen
Every Wednesday

1000-1200hrs
Every Saturday

1000-1200hrs
Every Wednesday

1830-2000hrs
Every Friday 1100 - 1400hrs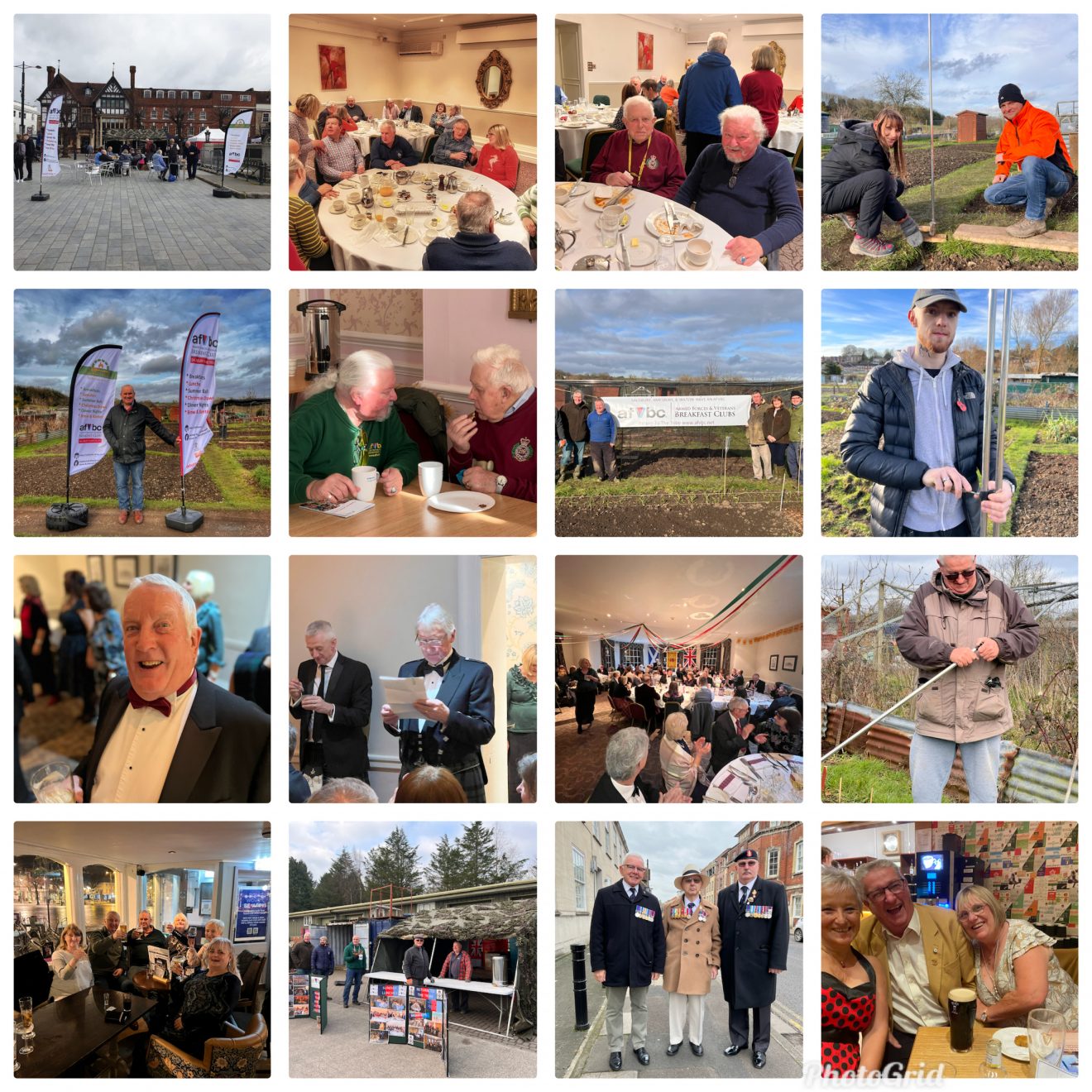 About the Club
The Salisbury Armed Forces Veterans Breakfast Club is one of the 1300 clubs worldwide. It started in 2017 with only 4 members. Today we have a thriving community of 422 members, a fantastic achievement. We are committed to to keeping veterans connected by social interactions from monthly breakfast meetings, to Sunday Lunches, Christmas balls. There are no subs or joining fees. All any veteran or service personnel will ever have to pay for is their own meal. Involvement ends isolation, giving veterans particularly a sense of belonging, which many of us lost when we left our respective services, and those attending AFVBC's are stronger together, because we have 'returned to the tribe'!
All Together Now
We are an inclusive club which includes husbands, wives and partners. Children are welcome. However, please bear in mind military humour and banter will be in abundance!
Website
We have a website as well as Facebook and Twitter. The website contains all the information on future events, so please check out the events tab of the website and register for any of the following events Click here
Sunday Lunch at the Evergreen Cafe - The Evergreen is a relaxed venue with home cooked food by Bret, who is a veteran and member of our group. Eat there and you will be supporting a veteran run and owned business.
Breakfast at The White Hart - An excellent breakfast in the heart of Salisbury. Coffee is served from 0930hrs, which is great chance to meet new people and catch up with friends. Dress is very relaxed or as formal as you like!
Quiz Night at the Evergreen Cafe - A great evening out with the added bonus of exercising your brain cell and the opportunity to win a cash prize. Entrance fee covers a meal and the quiz, the venue is not licensed but you are very welcome to bing your own alcohol if your wish.
Field Kitchen on the Charter Market -
Deploys to the Market square next to the War Memorial. Serving the best banjos in town along with unmistakable aroma of canvas and cam-net. Come and join use for brew and some banter.
Sunday Lunch at The White Hart
- A top notch 3 course Sunday lunch served with all the trimmings. The management allow us to bring our own wine without any corkage in exchange for buying a drink from the bar. Jacket and tie is NOT required
Breakfast at The Field Kitchen
- For those who prefer an alfresco breakfast roll this is definitely for you. £5 gets you a mouthwatering bap with unlimited brews and banter. A very relaxed Sunday morning standing shoulder to shoulder with fellow veterans and families.
The Allotment
- Open to anyone with or without green fingers! You will find the team at the allotment every Wednesday and Saturday morning from 1000 - 1200hrs. There is a very nice social area for anyone who just fancies to relax in peace and quiet of the countryside.
Singing Group
- Started off as Christmas project to spread the word about our group to care homes around Salisbury. It's now blossomed into a regular weekly sing along. This is very definitely not a choir more a group of people getting together to sing everything from the Beatles to The Greatest Showman to old time music hall songs. Excellent fun and very therapeutic.
.Brew & Banter - Support Karen Langleys "Boots on the Ground" initiative. Come along for a Brew and some of Salisburys finest baked goods at a fraction of the price that you will pay in a local coffee house. Remember all funds raised go to our own supported charity.